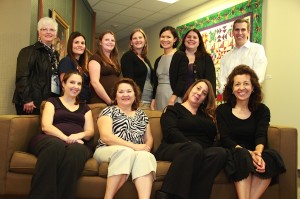 ---
Here at Austin FertilityCare Center we pride ourselves with the dedication and commitment each teacher  has made toward the completion of the  Creighton model NaProEducation curriculum.  As allied health professionals, we ensure each individual has the standardized quality of the model while taking into consideration the special needs of each couple or woman in their learning.
The teacher education program is a 13 month supervised practicum ensuring the quality and standards of the Creighton model taught by educators from various parts of the country.  The education has been devised by Dr Thomas Hilgers at the Pope Paul IV Institute for the Study of Human Reproduction.
We provide the Creighton model in our area and promote efforts in supporting individuals interested in becoming a Creighton Model teacher, or  practitioner, as we are titled.
All teachers at the Austin Fertility Care Center are certified instructors with the American Academy of FertilityCare™ Professionals and adhere to the Code of Ethics, Academy Standards and Participation in continuing education activities.